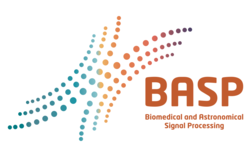 The international Biomedical and Astronomical Signal Processing (BASP) Frontiers workshop was created to promote synergies between selected topics in astronomy and biomedical sciences, around common challenges for signal processing.
Building on the success of the first two workshops in 2011 and 2013, the BASP Frontiers 2015 workshop will open its floor to many interesting hot topics in theoretical, astrophysical, and biomedical signal processing, with a particular focus on imaging.
The workshop is run by an internationally recognized scientific organizing committee and will gather around 75 participants.
Following our tradition, BASP Frontiers 2015 will take place in a very nice resort in the Swiss Alps named Villars-sur-Ollon, close to Lausanne and Lake Geneva. All participants will be accommodated in 4 star hotel in a full board regime. We believe that the most fruitful discussions often take place after the sessions themselves, on the terrace, or during breakfast, lunch, or dinner. We hope that the winter atmosphere will further promote discussion and creativity.
What has changed relative to 2013?
Virtually nothing. Same great venue, great food, great bar, great slopes, great science… Broadened scientific areas of focus, even simpler conference registration procedure, no Skype talks and associated internet access interruption onsite, no daily ski registration queue onsite.
---
News
February 1, 2015:
Many thanks for you participation.
BASP Frontiers will be back in winter 2017.
On behalf of the scientific and organising committees.

Best regards

Yves
Previous news
January 19: The detailed programme also includes a detailed PDF leaflet containing details of the programme.
January 16: Workshop proceedings now available to download.
January 16: Conference weather forecast at meteosuisse.ch
November 28: Please note that detailed programme now includes precise schedule of talks and posters in each session.
November 28: Hurry up, workshop registration closes on December 12, please remember to book your hotel by this date too.
November 2014: We are pleased to announce that the BASP workshop will open with a general talk from Professor Anthony Lasenby of the University of Cambridge on "The Search for Gravitational Waves in the Early Universe".
September 2014: Abstract submission deadline postponed to Friday October 03 23:59 GMT
September 2014: a Word template is now available to prepare your abstract.
August 2014: The session list and detailed program have been updated, together with a provisional participant list including committed invited contributors.